Did you know? The Tour de Bier was created to raise match funds for a grant that founded BikeWalkKC in 2010. The first Tour was held on May 15, 2011 with a goal bringing cyclists together to experience Kansas City's rich brewing past and present by bike. You may know of Kansas City's wide array of breweries, distilleries, and tap rooms, but Kansas City has a deep and long brewing history. Enjoy our "online Tour de Bier" with this series of tales from KC's brewing past as you prepare to enjoy its brewing present at the 2020 Tour de Bier.
Learn unfamiliar tales about now-familiar places!
Tour start: Electric Park
Today: Heim Park and Knuckleheads Saloon, Rochester and Chestnut Avenue in the East Bottoms
The marketing acumen of Ferdinand Heim and sons was on display at Electric Park—part amusement park, part beer garden —built next to the family brewery (now home to J. Rieger & Co.) in 1899. The park's name came from the thousands of electric lights that gleamed from every building, inside and out. In addition to the lights—a novelty at the time—Electric Park had a 2,500-seat theater, a roller coaster, a merry-go-round, a bowling alley and replica German village. The park was a hit, soon becoming the most popular hangout for Kansas Citians and a big attraction for people across the Midwest.
To cap it off, park visitors could go grab a mug of the Heims' best brew, pumped fresh into the park from the adjacent brewery through a wide "beer tube." Not wanting anyone to miss their attraction, the Heims built a three-mile electric streetcar line from Electric Park to Downtown Kansas City. The "Heim Line," as it was called, was powered by electricity generated at the brewery. In 1907, the park moved to near 48th and Paseo, following the city's southern growth.
More about The Heim Family
The Heim brewery was founded by Austrian immigrant Ferdinand Heim and his three sons, Ferd Jr., Joseph, and Michael. After learning the craft of creating German brews in a family member's brewery in St. Louis, the four set up shop near Downtown Kansas City in 1884. A year later, they purchased an old refinery on the site we're virtually visiting today, soon setting to work on their massive brewery and adjacent Electric Park. The Heims were good at what they did—it was a case of "the student becoming the master" when the family bested the brewers of St. Louis at their own craft at that year's World's Fair.
The Heims were also skilled advertisers. In 1886, before Electric Park opened, they brought the majors to KC when they started the Kansas City Cowboys baseball team of the National League. The team didn't outlive the season, finishing second-to-last in the league, and kicked out of the league for "rowdiness."
The combination of good brewing and marketing skills soon made the Heim Brewing Co. the largest pre-Prohibition brewer in Kansas City, known for their Scharnagel, Leitmeritzer, and Hedderman's Cream Beer. Meanwhile, the Heim father and brothers became influential civic leaders and flaunted their power and wealth with a row of mansions on Benton Blvd. Heim consolidated with the Rochester and Imperial breweries in 1905, forming the Kansas City Breweries Company. Fun fact: Rochester has been reborn as Rochester Brewing & Roasting Company in the Crossroads - a stop on this year's Tour de Bier and provider of hot and cold coffee brews at the pre- and post-ride events. But more on them later!
Join us for our next stop on the virtual Tour de Bier soon, and be sure to sign up for this year's Tour de Bier, presented in partnership with Port KC at beautiful Berkley Riverfront Park on Sunday, August 9!
KC's River Market was Once Home to Beer Barons
Grand to Locust, 3rd Street to Missouri Avenue - site of Muehlebach Brewery
In what is now the heart of the bustling River Market, Swiss brothers John and George Muehlebach established one of the largest breweries in Kansas City history. They started by purchasing the small Main Street Brewery in 1869 (which became the site of the TWA Corporate Headquarters and is now home to Barkley), which they demolished to build a magnificent "beer castle" in 1880 with detailed brickwork and masonry.
The extended Muehlebach family branched out into various enterprises—hotels, grocery, real estate—but the family's biggest and best-known business was the brewery. And its most popular product was, hands down, the Muehlebach Pilsner. In Kansas City, it beat out Schlitz and Budweiser, and no local tavern was complete without it. Actually, the Pilsner could be truly considered Kansas City's beer, as Muehlebach was originally only sold within city limits.
The Muehlebach family also bought the minor-league Kansas City Blues and built Muehlebach Field for them at 22nd and Brooklyn. The Blues were more successful than the Cowboys, setting a league attendance record of 450,000 in 1923. The popularity of the Blues eventually brought the big leagues to KC in 1955 with the Kansas City Athletics, who played at a newly christened Municipal Stadium (where the Royals would play their first games a decade later).
Prohibition hit the Muehlebach Brewery hard. It kept afloat by brewing "near beer," but the Main Street facility had to be abandoned in 1930. In 1938 after Prohibition, Muehlebach built a new brewery at 4th and Oak Streets in the City Market area. Interest in the beer exploded during World War II, when sales rose from 66,000 barrels a year to 161,000. The company struggled during and after the war because of shortages of glass, metal and grain. It resurged in the early 1950's with a new brand—including popular at-top metal cans. But in 1956, after a final slump, Schlitz bought Muehlebach for $2.5 million (about $21 million in today's dollars).
201 Grand Boulevard - site of Green Tree Depot
Now a parking lot across from the Chinatown Food Market and adjacent to the Park & Ride Transit Center, 201 Grand was home to the Green Tree Brewing Co.'s local depot from 1893 to 1911. The St. Louis brewer—named for the Green Tree hotel, which its headquarters abutted—produced Bohemian Bottled Beer, which the company claimed was both "appetizing and strengthening." At the time, Kansas Citians drank about 12,000 kegs of the lager a year, delivered by three teams of horses, hopefully not "strengthened" by Bohemian Bottled Beer.
In 1911, the brewer moved a few blocks east to 2nd and Oak, where it remained until Prohibition began. Green Tree's River Market addresses put it in good company. Several breweries, along with many depots, were located nearby on Levee Road, which ran below the bluff on the south side of the Missouri. Neither the street nor any of the adjacent buildings remain—no doubt because of the river's tendency to overflow—but the area likely had a major influence on what early Kansas Citians imbibed.
304 Delaware - Weidemann Brewing Co.
Currently home to retail shops,This was the KC depot of the Cincinnati-area's George Weidemann Brewing Co. from 1911 to at least 1915. George Weidemann had perfected his craft while growing up in Saxony and later living in New York and Cincinnati. He got so good that about 20 years after founding his brewery in 1870, it was producing 100,000 barrels of high-quality beer every year. The Weidemann Co. marketed its products as "America's Only Registered Beer."
The company originally brought its popular beers from Newport, Kent., to 1812 Main St. in KC in 1905. It moved into its facility near 3rd and Delaware in 1911. The local trail of Weidemann Brewing goes cold after 1915. Nationally, though, the company has had a good run. The original firm continued to brew until 1987, a good 117 years after George Weidemann started the company. In 2012, a Cincinnati entrepreneur and his wife resurrected the brand. The new George Weidemann Brewing Co. has resurrected the original Special Lager, and produces other beers seasonally. Sadly, they're only available in Kentucky and Ohio right now—but our fingers are crossed that Weidemann's soon will be back in KC!
Experience River Market brewing at its finest when you visit Strange Days Brewing Co., one of our brewery partners for this year's Tour de Bier! Registration is still open for the 2020 Tour de Bier, presented in partnership with Port KC at beautiful Berkley Riverfront Park.
The Crossroads is now home to at least eight modern breweries in and around what is known as "Brewer's Alley," but it has long been a part of Kansas City's brewing history. The Crossroads were once home to the former Pabst Depot / Pendergast Distributing Company (now the Crossroads Hotel), Atlas Brewing (now Mid-America Arts Alliance), Rochester Brewing Co. (now Office Products Alliance), and Imperial Brewing (currently under renovation), the Schlitz Warehouse (now the Freighthouse), and St. Louis-based Wm. J. Lemp Brewing Company (currently a law office).
Rochester Brewing Co., 20th and Washington
The story of the Rochester Brewing Co. dates back to 1888, when Joseph Iler of Omaha and Leonard Burgweger of Chicago opened the Iler & Burgweger Brewery in Kansas City. As the brewery evolved, it developed an impressive complex of buildings, including three 5-story buildings between 20th and 21st Streets on Washington. Its products were shipped as far as California. Eventually, foreclosure and a merger led to the company that became Rochester in 1900. Two years later, the brewery got into trouble with the federal government over its J.D. Iler's Rochester Tonic, a 2% alcohol "cereal beverage." (The company labeled it that way so it could be sold in Kansas, Indian Territory, and other "dry" areas.) The feds sued, citing that the brewery should have been paying a tax on this "tonic" as a "medical preparation," and Rochester lost the suit.
In 1905, Rochester consolidated with Heim Brewing (see Start: Section 1) and bought the bankrupt Imperial Brewing (see Stop #3), and the three companies became the "KCBCo" - Kansas City Breweries Company. The Rochester complex was dubbed "Rochester Brewery Plant A," and the massive Imperial building became "Rochester Brewery Plant B." When Prohibition began, the Rochester Plant A complex was sold to City Ice Co. for cold storage. In October 1934, a massive fire burned much of the complex; only the bottling facility at 2015 Washington remains today (now home to Office Products Alliance).
The Rochester brand was reborn with our Tour de Bier partners, Rochester Brewing & Roasting Company, in 2019! Their location is just south of the original, at 2129 Washington.
Pabst Depot / Pendergast Distributing Company, 21st and Central

A year after opening its first branch depot in Chicago, the Phillip Best Brewing Co. of Milwaukee first came to Kansas City in 1879. By the 1880's, it was the largest brewery in the US and in 1889, was renamed Pabst Brewing Company (after Best's son-in-law, Captain Frederick Pabst). In 1893, Pabst produced over a million barrels of beer! To accommodate its production, the depot and bottling facility complex was built at 21st and Central in 1911.
Like many other breweries, Pabst made "near-beer" to stay alive during Prohibition. In Kansas City, the Pendergast Distribution Co. took control of Pabst's distribution; it is rumored that Mr. Pendergast used the Pabst Depot for a bootlegging operation. Today, you can walk in Tom's footsteps when you bike up to the new Crossroads Hotel, located at 2101 Central.
Schlitz Warehouse / The Freighthouse, West 22nd Street
What is now home to Lidia's Kansas City, Grunauer, and Jack Stack Barbecue, the Freighthouse was once the site of the old Schlitz Warehouse. Constructed in 1887, Freighthouse served as a holding area for cargo that was delivered by rail, including of course, beer. For much of the 20th century, the building served an important role for merchants and industries who regularly picked up goods and materials from the trains that stopped here. In 1997, Lidia's was the first to occupy the newly renovated building at 101 West 22nd Street. Pedal into the Freighthouse's parking lot and watch the trains roll by.
Atlas Beverage Company, 20th and Baltimore
"Boss Tom" Pendergast had his hands in a lot of industries in Kansas City, and in addition to the warehouse on Central, owned the low-slung brick building at 2018 Baltimore as a storage and distribution center for Atlas Beverage Company. Atlas distributed an array of beverages, including the Chicago product, "Atlas Brew," a near-beer product that was the only such beverage sold at Muehlebach Field during Prohibition. The building was constructed in 1869 on the site of what used to the coal yard for Union Station. It is now home to Mid-America Arts Alliance.
Wm. J. Lemp Brewing, 20th Street between Grand and McGee
Ever wondered what this cool little brick building was? It was a depot for beer! Specifically, it was the local warehouse of the Wm. J. Lemp Brewing Co. of St. Louis and was modeled after the brewer's huge castle-like headquarters across the state.
The Lemp family's association with beer goes back to 1840 when Johann Adam Lemp was one of the first people to introduce lager to the country, right here in Missouri. Lemp actually started one of the first brewpubs in the state - the Western Brewery, in St. Louis.
After the Civil War, Johann's son William expanded the operation and by the turn of the century, Lemp was producing half a million barrels of beer, mostly its popular Falstaff brand. The Kansas City depot was built in 1895 near the rail lines, and included offices, cellars, and an adjacent refrigeration building and a brick stable.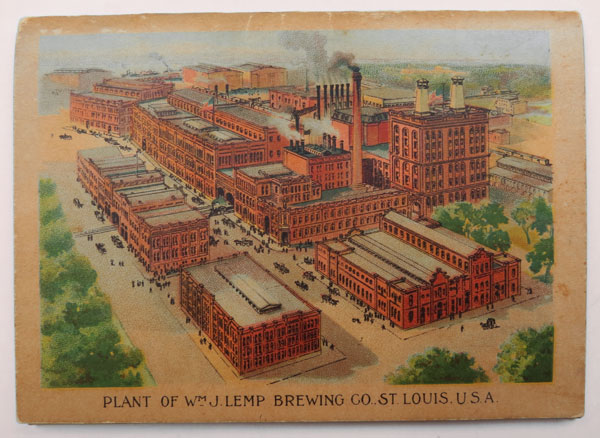 The Lemp Brewery closed with the start of Prohibition, in 1919, but the Falstaff brand - which had been sold to Griesedieck Beverage Co. - became its own business, the Falstaff Corp. By 1948, it had become the fourth largest brewery in the country.
Though the brewery is long gone, its "castle" is still with us, housing a law firm.